Leslie Rose McDonald
Founder and President of Pathfinders,  CTS, Inc.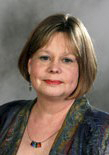 Leslie has a BS degree in Education / Psychology, and more than 25 years of business management and human resource development experience. Before starting Pathfinders consulting and coaching business in 1991, she held human resource management positions with two international high-technology companies. Her corporate roles included professional recruitment, employee relations, training and development, succession planning, career advisement, and management coaching.
Leslie is past president of the Central New York chapter of Society for Human Resource Management (SHRM) where she served on its board of directors for over ten years. She is also served as a board member for the local chapter of Junior Achievement for over 20 years. Her other professional memberships and affiliations include: American Society for Training and Development (ASTD), the Career Master's Institute (CMI), International Association of Coaches (IAC) and the International Coaching Federation (ICF).
A graduate of State University College at Cortland, Leslie has maintained a commitment to her personal and professional development including: Certification as a Job and Career Transition Coach (Career Research and Testing), qualified MBTI administrator, and authorized Harrison Assessment facilitator and trainer. She is also a practitioner of NLP (Neuro-Linguistic Programming) and Energy Psychology.
Leslie has been a business columnist for the Syracuse Post Standard for the past ten years, where her column "Workplace Wellness" appears regularly in the business section. She is a recipient of the "Women in Business" award from the Central New York Business Journal, and is a sought-after speaker on business, career and motivational issues.
Michael R. McDonald
Vice President of Pathfinders CTS, Inc.
Michael brings to Pathfinders a unique combination of technical knowledge and employee development and coaching. He offers over 25 years of experience in management, training and consulting and is certified as a Job and Career Transition Coach (JCTC) from Career Research and Testing, Inc.
Michael holds a Bachelor's degree from SUNY College of Environmental Science & Forestry. He is a former captain who served for six years with the US Air Force, where for 2+ years he was Chief of Operations for the 321st Civil Engineering Squadron. During his early professional career, he held technology positions as a manager for a $100 million specialty paper manufacturer, and as a Systems Engineer and IT Team Leader for a regional telecommunications company.
For the 6 years prior to joining Pathfinders, Michael managed his own consulting firm which provided information technology advisement, planning and custom training to local businesses. In that role and as a former adjunct faculty member at Syracuse University, he served as a coach and mentor to numerous emerging professionals.
When he realized that his passion for developing people had surpassed his passion for technology, Michael initiated a career shift and joined Pathfinders in 2001. Since that time, he has vigorously pursued training, development and participation in the professional coaching arena.
In addition to his certification as a Job and Career Transition Coach, his professional development and affiliations include: American Society for Training and Development (ASTD), International Association of Coaches (IAC) and International Coaching Federation (ICF). Michael served as a Practice Leader for Executive Coaching in Career Partners International (60 partners, 70+ locations, 300+ Executive Coaches).
Michael is an authorized Harrison Assessment Talent Solutions (HATS) facilitator and trainer.
Paula D. Behm
Paula is a senior consultant at Pathfinders with over 25 years of Human Resources experience in career transition and management services, training and development. She has been with Pathfinders from the early '90s through today either full- or part-time and continues to be a valued part of our team.
Paula's academic credentials include a Bachelor's degree in Human Resource Management with a focus in Adult Training from SUNY Empire State College and a Master's degree in Professional Education from Le Moyne College.  She has since earned certifications as a Job and Career Transition Coach, interpreter/trainer for the Myers Briggs Type Indicator (MBTI) and facilitator for the Harrison Assessments. In 2006, Paula graduated from Leadership Greater Syracuse.
Cathe Ruskey
Cathe is a resume writer and internet research specialist. She is a member Professional Association of Resume Writers. In addition to expert writing skills, Cathe offers a strong professional presence from over 20 years in the corporate world.
Patty Lyons
Patty is our Office Manager,  overseeing most of our business operations as well as coordinating client needs and events. Patty's consistent attention to both client and operational details is complimented by a warm and welcoming way of setting everyone at ease as soon as they meet her.
Before joining Pathfinders, Patty received a degree in Interior Design and worked in the travel industry.